Fishing Pictures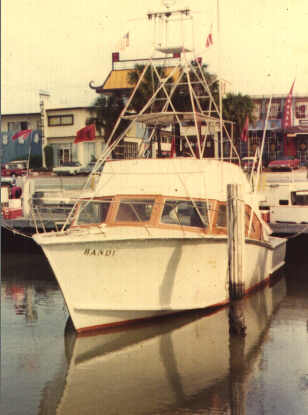 The "Bandit" 37 ft North Carolina built sport fisherman. If a boat could tell stories, this little boat would have a lot to tell. Some of the notable characters who went fishing with us were: Uriah Heep, Al Greene, Joe Louis, Jimmy Hoffa, Alice Cooper, and Meyer Lansky, to name a few. Since the boat cannot tell the stories, I'll tell a few...a very few.
Uriah Heep: (British Rock Band) I met them for the first time in the early 70's, when they were in Miami for a concert at the Miami Sportatorium. They would charter my boat for half a day usually, then they would go to my house in Golden Beach and party for days, before and after their concerts. I always had back stage passes, so I sat behind the amps with their girlfriends and their stage manager. I think his name was Rick, at the time. On one of our more memorable boating trips in 1972 or 1973 the ocean was rough, as there was an Atlantic Hurricane either coming our way or passing closely, so we decided to head down the Inter-coastal water way, into calmer waters. We cruised down to Key Biscayne. After circling around the bay we noticed a large flat topped cement structure over in a cove and decided this would be a good place to tie up and eat some lunch. As we approached the cool looking dock we noticed boats approaching us in all directions at very high speed. As they neared, we noticed that the crew were all armed with hand guns, M-16's and other automatic firing devices. I was told to cut the motors and prepare to be boarded. Once boarded, I was not so politely asked where in the hell did I think I was going? I replied in my natural Okie accent, "To that big round cement thang to have some lunch." He said, "Didn't you see those buoy's out there?" I said, "I see 'em now." One thing I learned that day: the Secret Service does not allow you to tie up to President Nixon's private helicopter pad, especially when he's home! Fortunately, one of the secret service agents recognized Gary Thain (bass Guitar) and Lee (drummer). He had tickets to the concert and explained to the others who they were. We were more cordially escorted away from our dining area.
Jimmy Hoffa: (American Labor Union Leader, author, President of Teamsters). Once in a while Jimmy would come down to the docks and charter the boat for half a day. He always had some guy with him who wore a jacket, in the heat and humidity. Humm?!! It was years after Jimmy's disappearance that I ever admitted that I'd met him. NO, I DO NOT KNOW WHAT HAPPENED TO JIMMY HOFFA!!!
Meyer Lansky: (Jewish-American organized crime figure with strong influence in the Italian Mafia). Before I met Meyer, or my future wife, Marta (Peterson) Womack, she and her father, Robert, had a run in with him back when she was a teenager in Miami Beach, not knowing who he was. She was living in the same apartment complex as Meyer at the time. Once, when she was in the recreation room playing pool with her father, Meyer came in and told Robert that young girls are not allowed in a pool room. Bob told him to mind his own business. Afterwards Bob was informed by management that a complaint was made and by whom. He quit teaching her how to play pool and avoided the rec room forever after.
Meyer and my relationship was good, however. I'd met him through a guy named Marty G. (alias), actually his name was Marty and if I remember correctly his last initial might've been G., but that is all you need to know. He is most likely dead by now, but I'm not taking any chances. I knew Marty was a bookie, among other things. We met regularly for drinks at the Castaway's pool side bars, singing with the crowd. The "Miami Dolphins" theme song, they were undefeated one of those years. One day Marty brought Meyer down to the docks for a fishing trip and we caught some fish. Meyer had a great time and came back again and again. Eventually, Marty says to me, "Meyer would like to use your house for a day or two, to set up some phone lines for book making. Here's a few G's, so just stay on your boat." I went home 2 days later and I have never seen my house so clean, almost sterilized. Lets face it, most 20 something year old guys are not the neatest. Every crack in my bachelor pad was scrubbed clean. They even washed the windows. The only thing that seemed strange was that someone took every lemon off my lemon tree, probably close to a hundred, my papaya and grapefruit tree was intact.
Meyer called me late one night. He said "Roger, I need you to go to Bimini (in the Bahamas) and pick someone up and bring them back to the Miami." I asked, "Who?" (Silence). Meyer says, "Go to Brown's Marina, have a drink or two and he will be on your boat when you return. He knows the name of your boat and what the boat looks like." I asked, "How does he know that?" (More silence). I said, "I guess I don't need to know that, either." Meyer laughs, and says, "You're a good Goya Cup." I think that translates into: I was OK, for a non Jewish flake. Let's face it, a young 20 year old male isn't always the wisest! Bimini is a neat little Island and I always liked visiting with Julian Brown and eating Bimini bread and conch fritters, so at day break the next morning, I was on my way to Bimini. I pulled into Brown's early to mid morning, visited with Julian Brown and sure enough, when I returned to the boat, a guy was sitting there. I don't know who he was, but he was not American or Latin. He was clean cut, in good shape and looked very professional. My guess was that he was an agent of some type. A few days after our return to North Miami, he came down to the docks and wanted to charter my boat to go to a house on the inter-coastal in Miami, so we headed down the inter-coastal, pulled up to the back of a nice home, entered through the rear door and loaded many boxes of paper-work onto the boat. I found out the home belonged to Anastasio Somoza (Nicaraguan dictator and officially the 73rd and 76th President of Nicaragua). I don't know what the connection was to Meyer, if there was any, but it was all a wee bit eerie. By the mid 70's the Castaway's Docks had become a dangerous place to be: Captain Tommy Salvano was assassinated in a car in the parking lot, Captain Jack Tratham was assassinated on a boat, Captain Ricky Thurlow supposedly committed suicide on a boat, Captain Billy M. and a few others had been busted for bringing in tons of pot from the Bahama's, My genius brain told me it was time to go. In 1975 I left the docks and my house in N. Miami Beach. I moved into a trailer park in Davie, Florida, where I met Marta (my wife, who knew none of this until years later). It was time to grow up and have a stable life with a good woman. I never heard from Marty G. or Meyer after that. Looking back, those many years ago, I guess if I had one question, I would've liked to have asked Marty: "What happened to all my lemons?"
OK, enough stories, here's a few fishing pics.
"Wahoo"

"Sailfish"

"Hammer Head Shark"

Hammer Head Shark"

All these pictures were taken on the Castaway Docks in North Miami Bch, FL/. in the early 1970's.

"Barracuda & Yellow Fin Tuna"

Sail fish, Castaway's docks, N. Miami Beach, Florida